FERRO-TRAIN
FERRO-TRAIN, originally known as a manufacturer of brass models, has continued to develop. In the meantime, a healthy mix of small series models, the finest handcrafted models and plastic series models are produced. The fine equipment details for dioramas and systems complete the portfolio.

HALLING
Leopold HALLING originally founded his company for toolmaking, corresponding orders from model railway companies such as Stängl MODELLBAHNEN and FERRO-TRAIN and a pronounced skill in model construction made him the largest manufacturer of model trams in the world over the decades.

Stängl
Stängl MODELLBAHNEN were the first to develop narrow-gauge models for the Austrian market for series production! Few people know that Josef Stängl began designing simple tram models for Wiener Linien 50 years ago. When he retired in 2017, he handed over around 100 models and an immense wealth of experience.
2021-09-18
New signs from FERRO-TRAIN!
Halling Modelle launched well over a hundred new models at the beginning of the year. Including some unchanged new editions of out of print or revised new releases of popular models, but also several completely new shapes. All that with around ten employees and a somewhat quirky small company location in a green suburb of Vienna.

Given the speed, it is not surprising that little things, no matter how beautiful, often fall under the table and do not get the limelight that they are entitled to. The finest miniatures from the brass forge FERRO-TRAIN have already brought many a "real" model railroader abruptly back to the good old days, when the world still smelled of coal smoke and mom's apple strudel*…

Hobby Model Expo - Mailand

24.9. - 26.9.2021
Parco Esposizioni Novegro, Milan\ IT
Friday 09 AM - 06 PM
Saturday 09 AM - 06 PM
Sunday 09 AM - 06 PM
Vienna Fair

23.10. - 26.10.2021
CANCELLED! New date will be coming soon!
Messe Vienna\ Halle A Stand A0206
Saturday 09 AM - 06 PM
Sunday 09 AM - 06 PM
Monday 09 AM - 06 PM
Tursday 09 AM - 05 PM
RAILEXPO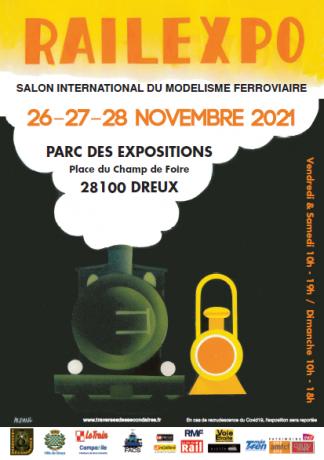 26.11 - 28.11.2021
France, Dreux \ FR
Friday 10 AM - 07 PM
Saturday 10 AM - 07 PM
Sunday 10 AM - 06 PM
1st 'Brucker Model Expo

19.11. - 21.11.2021
Bruck\Leitha, Stand 006
Friday 09 AM - 06 PM
Saturday 09 AM - 06 PM
Sunday 09 AM - 05 PM
Free entry!
17. Model Expo Dresden / DE
11. - 13.2.2022
Dresden/ DE, Halle 2, 3 and 4
Friday 10 AM - 06 PM
Saturday 10 AM - 06 PM
Sunday 10 AM - 06 PM