2021-06-18 10:55:25
News 2021.06 - Qatar Education City Siemens Avenio Doha
Qatar Education City Tram
Qatar is preparing for the 2022 World Cup and is investing heavily in passenger transport. The models of the extraordinary low-floor trams of the type Siemens Avenio are now available again.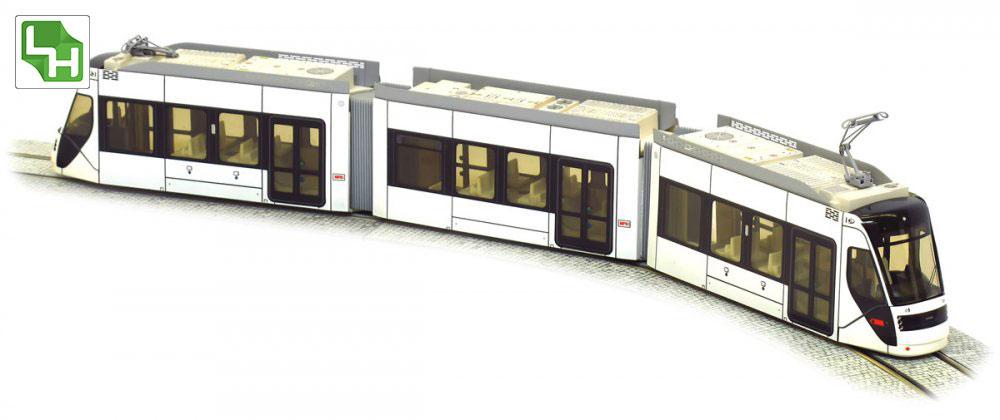 AVN-DOHA-M
The first 2.5 km long section, the "Blue Line", was opened at the end of 2019. The ring line has seven stops and opens up the extensive "Education City", a development area with numerous educational and research institutions of the non-profit Qatar Foundation.

The 11.5 km long system with 24 stops is currently being completed. Park&Ride offers are intended to encourage the car-used inhabitants of the desert state to change trains. Tens of thousands of football fans are brought to the games in the Education City Stadium from a total of three multi-storey car parks.

The three-part low-floor trams of the Avenio type were supplied by Siemens as part of a turnkey contract. The order includes electrification, signalling and communication systems as well as the operations centre and depot. Power is supplied via small pantographs only at the stations; there is no overhead line between the stations on the route itself.
The first models of the Siemens Avenio were delivered by HALLING Modelle in 2016. Due to the continuing demand, a small new edition of the models has now been produced. The Avenio models have a very high level of detail even for HALLING models.

The elaborate design of the roofs of the model with the help of hand-made and printed synthetic resin parts and fine etched roof signs made of brass enable an exemplary illustration of the understandably extensive air conditioning and energy storage systems of the future-oriented Qatar tram.