2021-12-24 15:35:41
News 2021.12 - Avenio Tram for Bremen
MOIN, I'm new here!
The new Avenio Bremen from Siemens cheerfully greets his driving gesture. To be able to realize Bremen's northern lights in a model and thus to expand the in-house Avenio fleet by another member is a great honour for the small Viennese model railway forge HALLING Modelle!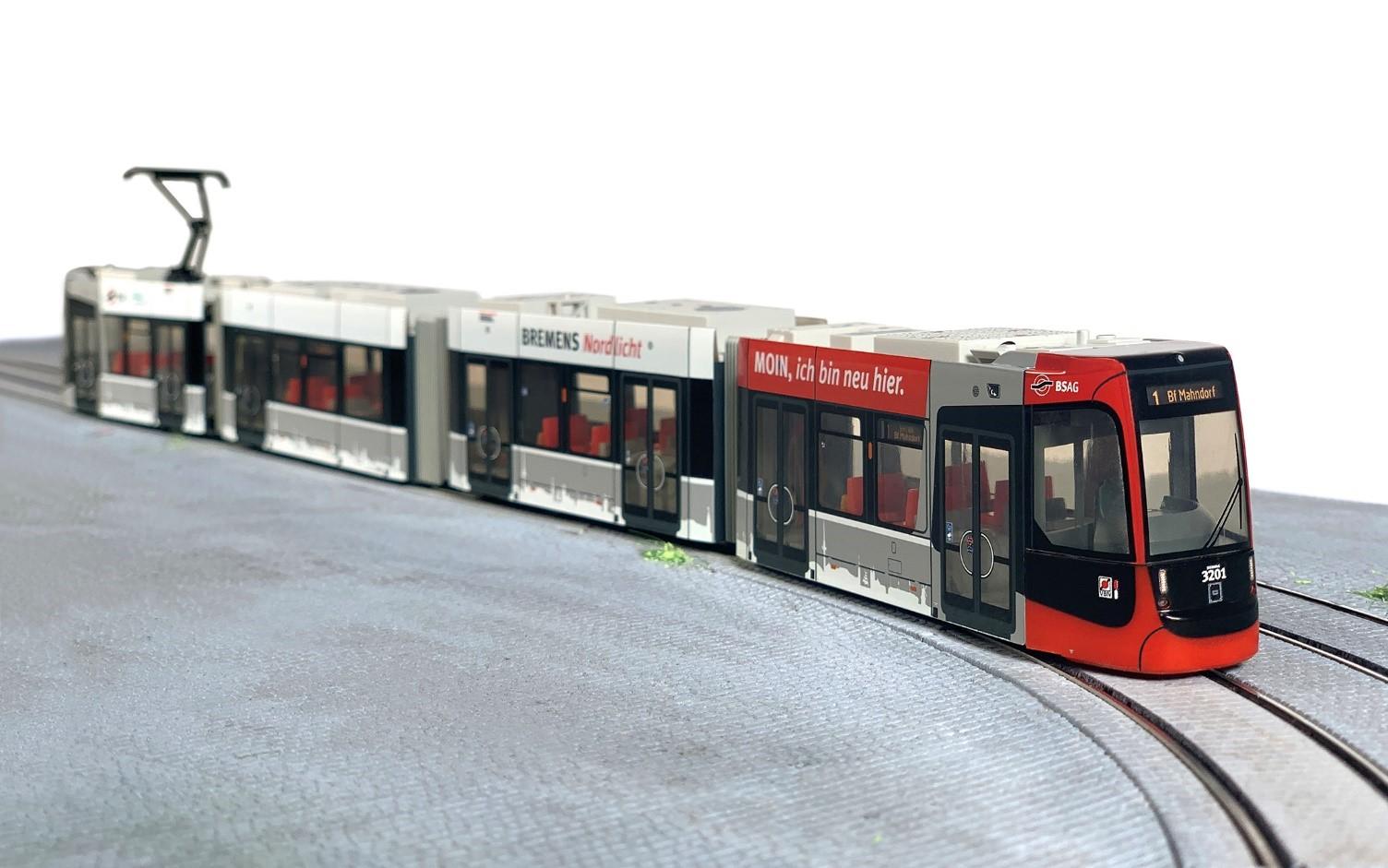 AVN-B21-M
The Avenio-Family is a further development of the Combino short articulated trolleys, which are already equipped with a driving value under each module. The concept promises less rail wear and better running properties and is used in numerous European cities.
The first Avenio trams were used in Den Hague, Munich and Doha (Qatar), the corresponding models were manufactured by HALLING models as high-quality premium models in several editions. In the meantime, other cities have been added: Bremen, Nuremberg, Düsseldorf and Duisburg, as well as Copenhagen have also decided in favour of representatives of the multiple unit family.

The Avenio Bremen is already in use, the models from HALLING Modelle are hardly inferior to the original in terms of driving comfort and technical equipment. They have an extremely detailed roof and interior design, with multi-coloured seats that are true to the original and exemplary colouring. The elaborate printing of the models was carried out at the customer's request using high-quality and manual labor-intensive pad printing technology; modern UV printing was only used for the implementation of the elaborate roof plan.
With the help of the enclosed number and target plate decals, the model can be individualized.The powered models are equipped with a NEM652 interface and LED alternating light. Order your Model of the new Avenio Bremen alredy digitalized ex works Vianna with the MX600R from ZIMO.