2021-08-27 17:16:52
News 2021.08 - Vienna Trailer Type c4
High capacity trailer streetcar type c4!
The debut model from the young Viennese company cbmodels® is a long sought-after classic and closes a large gap in every collection of Viennese models. The model of the high capacity trailer is produced as a high-quality painted and printed plastic injection-molded model in the condition from 2009 and thus fits all articulated railcars type E1 from HALLING Modelle that have been published so far. Only 150 models of each car number are produced, which are sold exclusively by HALLING Modelle.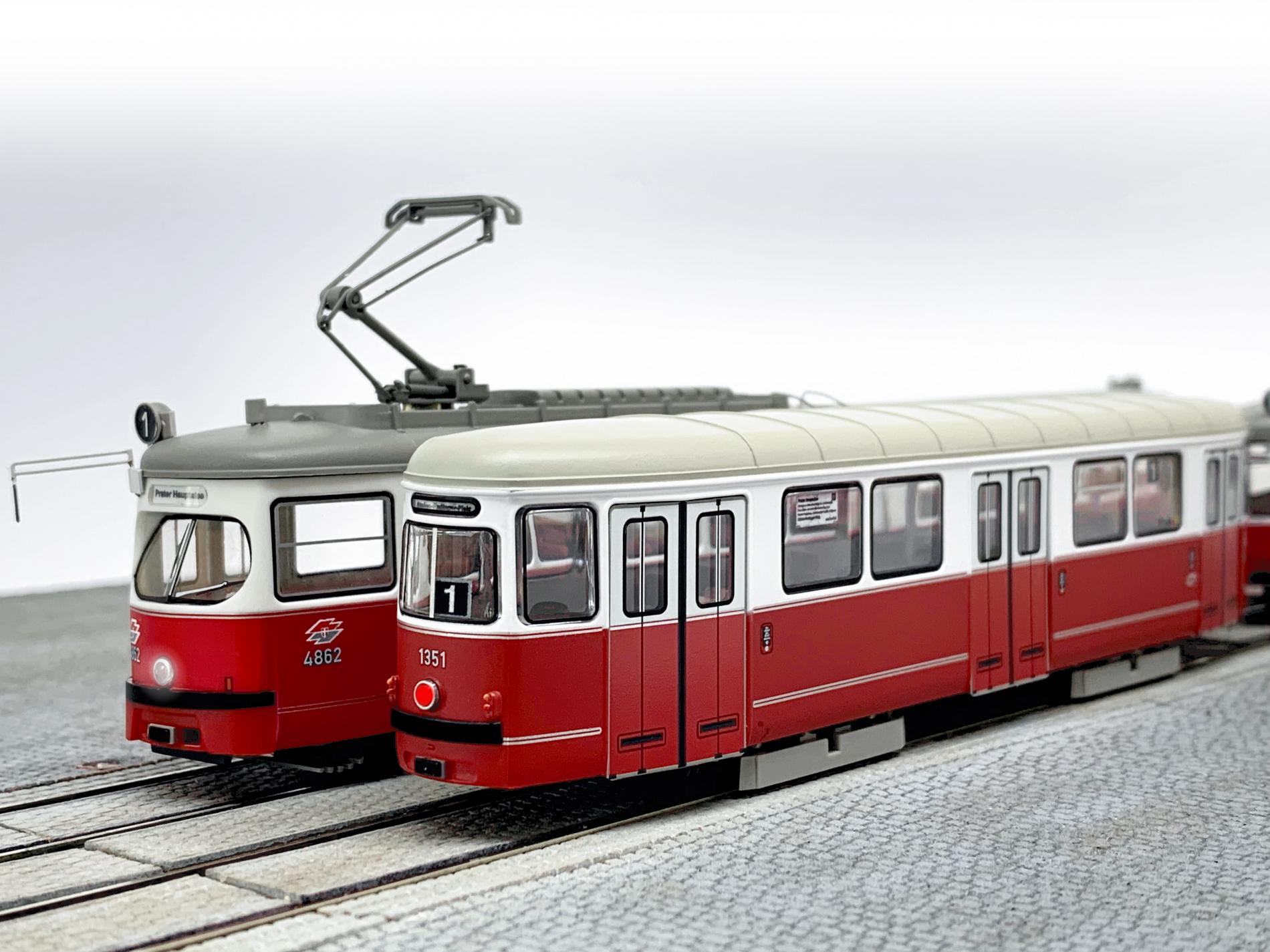 WC4-B51
The 73 type c4 sidecars with the number group 1301 to 1373 were built by Lohner from 1974 to 1977 as a further development of the types c2 and c3 for Wiener Stadtwerke - Verkehrsbetriebe, today Wiener Linien. The "Schaffnerlos" operation was envisaged in the construction from the beginning.
While the lower numbers were still equipped with sliding windows, full ans hinged windows were used from car number 1326. The decommissioning began in 2014, currently 12 cars are still in active use, the oldest of them already with 47 years of service.
The most distinctive feature of this car series, in addition to the now wider windows and a front and rear geometry analogous to the E1 articulated trains, is the design of the entrances with double doors. Some trailer have special doors with larger windows.

The c4 models developed in Vienna address all these peculiarities and differences and additionally offer a red LED tail light that is permanently illuminated in both analogue and digital mode. There is also an extensive set of line labels and pictograms as decals and a dummy coupling. Work is still ongoing on the lighting for the passenger compartment and target sign box as well as a NEM651 interface.
Many additional parts, such as the ELIN box in an unprecedented design, and other details are available as spare parts.
As an accessory for these great small series models, we recommend, in addition to suitable magnetic couplings (SKP-TRI-GR) for easy coupling, one or two of the few models of the Wiener E1 in stock.